The feature of Our Clinic
The specialist of Internal Medicine, Neurology, Cardiology, and Respiratory disease will provide you highly qualified medial service with proper diagnosis by using the latest and excellent our equipment.
Prevention of arteriosclerosis due to avoiding vascular event such as brain or heart attack. Anti-aging of vessels.
Precise and effective treatment of headache: make your headache under control to improve your quality of life.
Prevent aging of brain for your qualified life.
Precise diagnosis and proper treatment of Chest pain, arrhythmia, chronic heart failure, and cardiomyopathy, especially on preoperative diagnosis of TAVI for valvular disease of heart.
Diagnosis for Arteriosclerosis obliterans (ASO) of lower limbs, Diagnosis and post surgery follow-up for Varix of lower limbs.
Diagnosis by using ultrasound echogram for mastopathy and mammary gland disease.
Diagnosis and treatment of Sleep Apnea Syndrome (SAS).
Diagnosis and treatment of Chronic Obstructive Pulmonary Disease (COPD).
Provide high grade health care consultation for working people in urban area.
Precise and warm hearted primary care for residents in urban area.
English available
Doctors
The Chief Director Akiko Ohashi M.D.
Board Certificated Internal Medicine
Occupational Health Physician Certified by Japan Medical Association
The Chairperson Hiroko Toma M.D. Ph.D,
Board Certificated Cardiologist and Internal Medicine
Occupational Health Physician Certified by Japan Medical Association
Satomi Shiota M.D. Ph.D,
Associated Professor of Juntendo University, School of Medicine, Department of Respiratory Medicine
Board Certificated Respiratory, Internal and Sleep Medicine
Mariko Yanagihara M.D. Ph.D,
Board Certificated Respiratory, Internal, Allergic and Sleep Medicine
Occupational Health Physician Certified by Japan Medical Association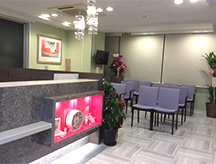 Clinic Hours
am10:00~13:00 pm3:30~7:00
Closed on Saturday, Sunday and National holidays
Location
Tokyo Metro

Toranomon Station
(9 or 10 Exit)
2 mins on foot

JR

Shinbashi Station
(Hibiyaguchi Exit)
12 mins on foot

Toei Mita Line

Uchisaiwaicho Station
(A4a Exit)
5 mins on foot

Tokyo Metro Chiyoda Line

Kasumigaseki Station
(C2 Exit)
5 mins on foot